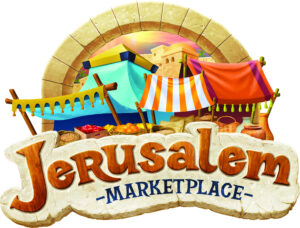 Questions?
Your kids are invited to join us for "Dyno-nites 2022: Jerusalem Marketplace", an evening VBS at GraceSpring Church. Kids will travel back in time to enjoy discovering what life may have been like for those living in first-century Jerusalem, as they follow in Jesus' footsteps during biggest week in history.
Each evening kids will become apprentices in "shops" at the marketplace, play village games, enjoy snacks, sing songs, and learn the daily local Jersalem news about what's happening with Jesus.
Who: Kids ages 3-finishing 5th grade
When: June 6-10 6:00-8:00 p.m.
Where: GraceSpring Church: 1955 20th Avenue, Vero Beach
Families! Join us Sunday, June 5 for a Dyno-nites Kickoff! 10:00 a.m. worship service will feature a pre-view to Jerusalem Marketplace; inflatable watersides and food will follow service.
Free Jerusalem Marketplace "Bandura" with registration- each small group will get their own team color!
Registration by May 22 encouraged, but registration available anytime.
Requested donation of $10 per child, or $15 per family